The age of handwriting your ebook and typing it up later is long gone. While I am a lover of beautiful stationery, ebook writing software is simply much more useful.
In our selection, we review the best editing, writing and converting toolscurrently in the market. Some of them practically take you from the first idea to the virtual bookshelf, and others import your manuscript and transform it into a beautiful e-book. Of course, everyone knows Blurb, and we write a lot about Sigil, that being the favorite editor of our technical team, but people have different needs and there are many reasons why you would want to look for an alternative to these apps.
What is more important to you: ease of use or number of options? Do you need somewhere to write and edit the text, or just import it from a doc file? Did we leave out your favorite? Drop us a comment, and we'll do our best to write about it.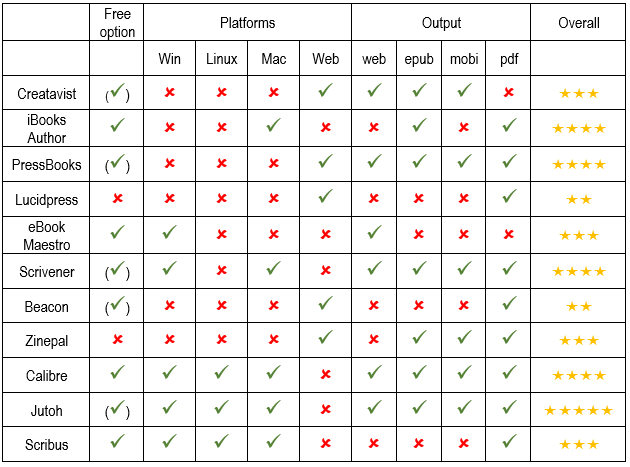 Pricing: free to $200 per month
Platform: cloud
Output formats: web, Facebook stories, several ebook formats
Behind the plain and off-putting title page (which pretty much shares nothing about what you'll find inside) hides an amazing app that is great for all your publishing needs: their motto is 'create once, publish everywhere' (COPE). Just sign up with Facebook and decide whether to publish under your name or create a profile for your publishing house, and you are good to go. You can use Creatavist to write and edit your books and stories, add pictures and audio and publish it on the web or download it as an enhanced ebook. It is great for creating magazines and scrapbooks and lets you publish directly to Amazon or Barnes&Nobles.
Pros: Create beautiful content easily. There is no need to write codes or have a developed sense of beauty, just choose a pre-designed layout. I cannot think of anything Creatavist couldn't do for me: the options are endless. Great branding opportunities, built in translation service to popular European languages with the chance to easily monetize your project, there is nothing more you could want.
Cons: It is expensive. The Creative plan is only enough to have a look at the website and try out some features – if you would like to use it, you have to pay for it.
Pricing: free
Platform: OS X
Output formats: PDF, ePub, iBooks
For those of us who prefer the option to work online (ever had to work on planes and trains?), Apple iBooks Author is an excellent choice with amazing personalization opportunities and obviously the option of easily sell in iBook Store (but your book still has to go through the approval process).
Pros: Apple being Apple, you don't have to be a genius to create beautiful multimedia content. Just flow in the text, drop in the pictures wherever you want them and you are done. And well, it is free.
Cons: It only works on a Mac. And while there is the option to export your content as an ePub, you cannot be sure how that will look on an Android tablet.
Pricing: free (with watermarks) to $99 per book
Platform: cloud
Output formats: PDF, ePub, Mobi, XML
Just as Tumblr transformed the standard of personal websites with its ease of sharing different types of content, PressBooks intends to do the same for ebook and print book publishing. Aimed for self-pub authors and small publishers, it is, in fact a WordPress based application with limited personalization options unless you are familiar with CSS. You can write your book straight in the browser or import it from Word.
Pros: The platform was designed with books in mind, easy to use for a simple and clear design. Ability to export your book and take it wherever you want to.
Cons: Watermarked ePubs and limited storage for pictures – better for text based books. Oh, and it also writes my password on the screen upon registration. I'm not an online security expert, but this doesn't sound very safe to me.
Pricing: $5.95 to $40 a month (free trial)
Platform: cloud
Output formats: PDF, jpg, png
Think of it as Canva for longer materials: amazing templates on an extremely user-friendly interface. Create flyers, brochures, or magazines and design for print, tablet or social media. Built with branding in mind, allows you to use the same style and layout across types of content and devices. It works well for shorter materials, but be aware: Lucidpress is more a publication platform than an ebook converter. It is amazing to create branded product but doesn't work well with longer projects, such as books.
Pros: Built in PoD service, easy collaboration between team members. Bonus points for the Google Drive integration.
Cons: However beautiful, your material will be fixed layout only – Lucidpress doesn't support ePubs. And unfortunately, most stores don't accept PDF-s.
Pricing: free to $19.95
Platform: Windows
Output formats: HTML, .exe
With the website using print screens clearly from Windows XP (which was released 15 years ago) and using outdated terminology, it doesn't seem the best choice for anyone's ebook needs at first glance. However, it has a surprisingly clear user interface which guides you through the creation of your book. As the output of your book is an exe file, eBook Maestro is great if you would like to sell your book on your website and make sure that people have to pay for it.
Pros: Ease of use, great ways to monetize your book.
Cons: Outdated technology and feel, no ePub or Mobi output.
Pricing: free 30-day trial, $19.99 (iOS), $40 (Windows), $45 (Mac)
Platform: Windows, OS X, iOS
Output formats: PDF, ePub, Mobi, HTML etc.
Scrivener is a bit of an outlier in this list, being not a conversion software but the greatest text editor ever made. It is very complicated to write long and complex texts as a Word document; if you want to change or check something later, it is almost impossible to find the right spot. Scrivener was created for compiling complex projects: books, research articles or screenplays. If you have millions of footnotes and endnotes, work with thousands of references or just would like to see your storylines in cute little windows, Scrivener is just for you.
Pros: What you see is what you get (WYSIWYG) text editor, inexpensive (one-time fee), amazing for working on long and complex projects and export it into literally any format you would like to. A writer's best friend.
Cons: Limited collaboration options – your friend can only co-edit your article if they are also using Scrivener. There is no online interface for ease of sharing either. Scrivener is also very complex and takes some time to learn and explore.
Pricing: free to $69 per month
Platform: cloud
Output formats: PDF
Not an ebook converter in the traditional sense: Beacon takes your existing material (imports blogs from WordPress and Hubspot) and simply transforms them into PDFs. The design options seem a bit boring and simple.
Pros: It is great for business people aiming for a new market without creating new content. The UI is simple and easy to use with only the basic features needed.
Cons: While it is suitable for creating longer works, the only output is a PDF.
Pricing: free to $14 per month
Platform: cloud
Output formats: PDF, ePub, Mobi
Zinepal is similar to Beacon in the sense that it recycles your existing material into e-books. Using it is literally as simple as using a stick: just give it your blogs RSS feed and click 'create.' It also lets you try it out without registering which is a great plus (I'm still receiving spam from everywhere else I ever subscribed to). After it created your book (it takes around five minutes), you can personalize the output. Don't put your hopes high; all options look very newspapery.
Pros: Easily generate Amazon compatible e-books from blogs and existing web pages.
Cons: Outdated design, seems a bit pricey for what it does.
Pricing: free and open source
Platform: Windows, macOS, Linux, portable
Output formats: PDF, ePub, Mobi
Calibre is the most popular ebook manager software ever created and is my personal favorite. It is mostly known as an ebook library manager: it pretty much handles every input and output format, can send your books to your reader on a wire or wirelessly, lets you easily edit metadata and is great to list your books according to specific information. If you are like me and have collected a library made of thousands of books, or have a nook and a kindle and a tablet, calibre does the work in the background and sends the right format to the right device, no questions asked.
It is also great as an ebook converter for personal use, or if you would like to send your books to your friends, but the codes it creates are cluttered, and stores (like Amazon) greatly dislike it. (Ebooks created with Calibre usually fail the validation.)
Pros: It is free and amazing for all your conversion needs.
Cons: Creates cluttered code, stores don't accept it.
Pricing: free limited trial, $39 (basic), $80 (plus)
Platform: Windows, macOS, Linux, Raspberry Pi
Output formats: PDF, ePub, Mobi, HTML
Although the user interface seems a bit off-putting, I have quickly fallen in love with Jutoh: it seems to be creating amazingly clean epub and mobi files. The 'Document Cleanup' function is a must have: it offers one-click removal of all rubbish coming from the text editors (tabs, line breaks, etc.) It doesn't even let you convert your book until everything is in order.
Pros: Clean, clutter free e-books imported from pretty much every type of documents. What's not to love.
Cons: There are only pros. This is a perfect paid alternative to Sigil.
Pricing: free
Platform: Windows, macOS, Linux and more
Output formats: PDF
Scribus is a free alternative to InDesign, the great (and expensive) desktop publishing software. It lets you create stunning visuals for print, much like in InDesign. The user interface takes a while to get used to – but only due to the amazing customization options. The only backside is that Scribus doesn't export into epub. While InDesign has 'ePub' as an output option (however cluttered that might be), for Scribus you either need to compile extra plugins to do this for you or go for a third party software. Keep in mind that converting PDF-s into epubs is usually a failure; keep your book in a text format and feed that file separately into the layout editor or ebook converter app.
Pros: It is free and great for larger projects, such as books, if you are aiming for print.
Cons: This is not an ebook converter (at least not yet).
I hope you enjoyed this selection of the most popular ebook writing and editing tools currently on the market. We tried to provide a selection including free and paid options for all platforms and online work. Which one is your favorite?